Gastric Sleeve
Consultations offered at our three convenient locations in Beverly Hills, Pomona and Apple Valley, CA
Excess body weight can do more than affect your appearance and self-perception. It can also severely limit your quality of life and cause serious health concerns such as hypertension, diabetes and heart disease. While a healthy diet and exercise may allow you to shed extra pounds, many patients require additional help to accomplish their weight loss goals.
Benefits
Everyone knows that an active lifestyle is the healthiest way to lose weight. However, exercise and nutrition counseling sometimes fail to do the trick, necessitating more radical weight loss interventions. Gastric Sleeve surgery, also known as, 'sleeve gastrectomy, vertical sleeve, gastric sleeve resection, and tube gastrectomy,' is a newer type of weight loss surgery, where 85 percent of the stomach is removed. Gastric Sleeve surgery morphs the stomach into a sleeve. The operation is performed with tiny incisions around the abdominal area; most people opt for this type of procedure because of the minimal scarring.
Procedure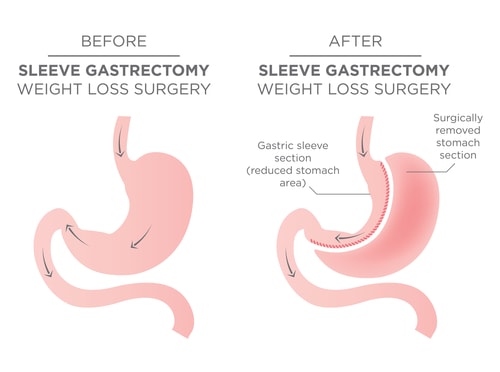 Gastric Sleeve procedures can assist patients in dropping a significant amount of weight and avoiding the health risks associated with obesity, diabetes, hypertension, sleep apnea, and heart disease and other complications.
The gastric sleeve surgery is reserved for highly obese patients with a body mass index (BMI) of at least 40. The procedure may also be suitable for patients with a BMI of at least 35 who have one or more co-morbidity, a condition such as high blood pressure or diabetes that commonly accompanies obesity. (Calculate your BMI below)
You must not be pregnant at the time of the surgery. Patients who undergo the gastric sleeve procedure should be prepared to adopt healthy eating habits and lifestyle changes to maintain their ideal weight after the surgery.
Our doctors go over every step involved in the treatment plan to make sure you understand what to expect from the procedure. Please remember that it is crucial to be fully honest during the consultation, you and your physician must always discuss any prior medical conditions or drug allergies. Such a careful and personalized approach to preparing patients for the procedure invariably pays off as it allows our physicians to avoid miscommunication.
Patients are strongly advised to follow a strict pre-op diet for two weeks before the gastric sleeve surgery. This diet is designed to decrease your carbohydrate consumption, increase your protein consumption, and reducing sugars.
Risks Involved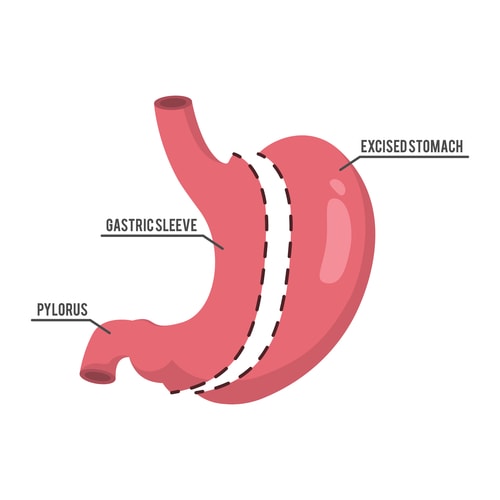 The gastric sleeve surgery involves considerably less risk than gastric bypass surgery. Potential complications during the operation are rare and may include perforation of the stomach, internal bleeding, and spleen injury. Generally, patients with a higher BMI are at a higher risk of experiencing wound infections, hematomas, and delayed wound healing. In some cases, minor side effects following the procedure may include gastroesophageal reflux disease.
Recovery
The recovery process usually requires the patient to stay in the hospital for a few days after the surgery. Most patients can resume normal activities within two weeks. Full surgical recovery generally takes place within three weeks. That being said, you should refrain from lifting heavy weights for one or two months after the procedure. During this period, our surgeons and staff will follow up to ensure that you are going through a smooth recovery.
Cost
The cost for this procedure may vary from patient to patient depending on various factors. Most insurance companies that cover weight loss surgery will cover the gastric sleeve procedure. We offer free insurance verification and guarantee that our pricing will always be competitive with that of other local providers furnishing equivalent services.