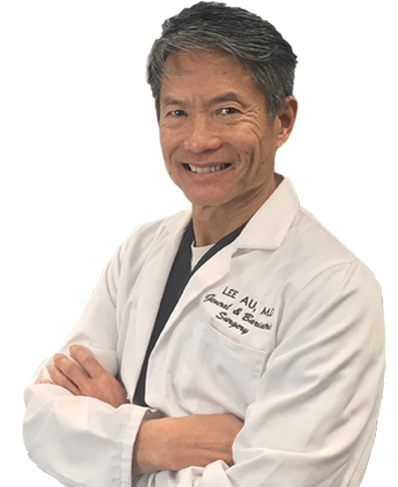 Dr. Lee Au is a highly experienced, board-certified Bariatric Surgeon specializing in Weight Loss, Bariatric Surgery, Varicose Vein treatments and, Hemorrhoid surgery.
Our top-surgeon has over 33 years of experience, an impeccable safety record and, performed hundreds of major bariatric procedures with zero mortality or major complications.
Losing a substantial amount of weight without medical help is a challenge. That is why we put together a comprehensive program with a range of options. Schedule a consultation with us to start your journey today!
Hemorrhoid Treatment Specialist
Dr. Lee Au is one of the pioneers in popularizing the use of CO2 laser for the treatment of hemorrhoids. He enthusiastically embraces the latest technological developments in medicine and has advanced the treatment of hemorrhoids to a minimally invasive procedure using fractionated CO2 laser.
Hair Removal
As the top laser treatment specialist in the Greater Los Angeles Area, Dr. Au also uses advanced laser technology to perform hair removal procedures with safe and effective results.
Education
Dr. Au attended the prestigious Baylor University in Texas and later earned his medical degree from Jefferson Medical College at Thomas Jefferson University. Following graduation, he completed a five-year General Surgery Residency at Medical College of Pennsylvania and spent 25 years running a successful private practice in Hawaii. Over the course of his distinguished career, he has developed a strong expertise in laparoscopy and endoscopy. Currently, Dr. Au is based in Pomona, serving patients in the Greater Los Angeles, the Inland Empire, and Apple Valley.