Tummy Tuck
Consultations offered at our four convenient locations in Pomona, Beverly Hills, Rancho Cucamonga and Apple Valley, CA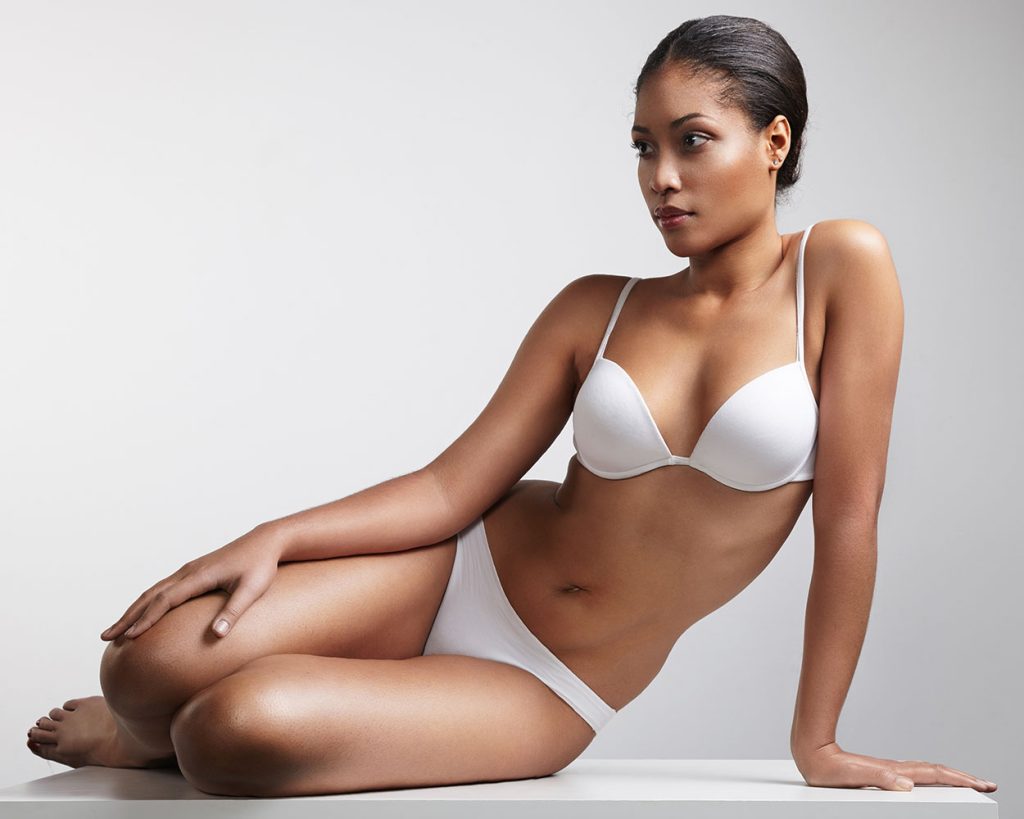 Abdominoplasty, also known as a tummy tuck, is a surgical procedure that removes excess skin and fat from the abdominal area. This procedure not only improves the appearance of the abdomen but can also help to address issues such as weakened abdominal muscles and stretch marks. If you have lost a significant amount of weight or have had multiple pregnancies, you may be left with excess skin and stubborn fat that just won't budge despite your best efforts through diet and exercise.
At Pacific Med Health Group, board-certified surgeon Dr. Lee Au, helps patients achieve their desired body shape with effective tummy tuck procedures. Dr. Au performs a thorough consultation with each patient to ensure that they receive a personalized treatment plan tailored to their individual needs. During the procedure, Dr. Au will tighten the abdominal muscles, remove excess skin, and eliminate stubborn fat deposits, leaving you with a flatter, more toned midsection.
If you are considering an abdominoplasty, schedule a consultation with Dr. Au at our Beverly Hills location. You can contact us by phone at (800) 555-5551 or fill out an online form to get started on your journey towards a smoother, flatter midsection.
Before and After Photos
About Tummy Tucks
Losing excess weight is a key contributing factor toward living a healthy life. However, the abdominal contour can change drastically after weight loss or pregnancy. Though it is somewhat elastic, excess skin in the midsection cannot simply "shrink back" after it has been stretched significantly. And although most of the excess fat has gone, the remaining skin and muscle weakness can be troublesome to deal with.
With an abdominoplasty, patients can improve the appearance of their midsection, creating a firmer and more toned look. This procedure is popular among both men and women who have lost a significant amount of weight or have undergone post-pregnancy changes.
Diastasis Recti
Diastasis recti occurs when the rectus abdominis muscles, which run vertically down the abdomen, separate and create a gap between them. This can happen during pregnancy or the postpartum phase due to the stretching of the abdominal wall to accommodate the growing uterus. However, it can also occur in people who have never been pregnant due to excessive weight lifting or heavy lifting.
Can Abdominoplasty Be Combined With Other Procedures?
Yes, abdominoplasty can be combined with other procedures, such as liposuction, breast augmentation, or breast lift. This combination of procedures is commonly referred to as a "mommy makeover" and is designed to help women regain their pre-pregnancy body.
Abdominoplasty After Massive Weight Loss
Excess skin occurs in 96% of patients who undergo bariatric surgery. (1) And as a board-certified bariatric surgeon, Dr. Au frequently discusses abdominoplasty with patients who have undergone a massive weight loss surgery such as a gastric sleeve or gastric bypass. A tummy tuck after bariatric surgery can eliminate excess skin, tighten muscles that have become stretched out, and contour the abdomen for a smoother, more toned appearance. Not only does this improve the overall aesthetic of the body, but it can also improve self-confidence and comfort in one's own skin.
Looking for more information about bariatric surgery in Los Angeles? Read the Pacific Med Health Group blog.
Getting the Best Results
For the best results, surgeons must consider numerous factors before a tummy tuck procedure, including: (2)
The location of the transverse scar
The position and shape of the belly button
The patient's waist-to-hip (WHR) ratio
The definition of the underlying abdominal musculature
Benefits of a Tummy Tuck
Here are some benefits you can expect from undergoing an abdominoplasty with Dr. Au:
Improved abdominal contour: Abdominoplasty can help eliminate excess skin and fat in the abdomen area, resulting in a flatter and more toned stomach.
Reduced stretch marks: During the procedure, Dr. Au can also remove stretch marks below the belly button.
Increased confidence: With a firmer and more sculpted midsection, many patients report feeling more confident and comfortable in their own skin.
Improved posture: The procedure can also strengthen the abdominal muscles, leading to improved posture and reduced back pain.
Customizable: Dr. Au tailors each abdominoplasty to the specific needs and goals of the patient, ensuring natural-looking and satisfying results.
Safe and effective: As an experienced plastic surgeon, Dr. Au prioritizes patient safety and uses advanced techniques to minimize scarring and reduce recovery time.
Candidates
Good candidates for abdominoplasty are healthy individuals who have realistic expectations for the outcome of their surgery. Dr. Lee Au of Pacific Med Health Group recommends that candidates be at or near their ideal body weight and have already tried to improve their abdominal appearance through diet and exercise without success.
Personal Consultation
We understand that every patient is unique and has different needs when it comes to body contouring. That's why a personal consultation with Dr. Au is essential before considering an abdominoplasty procedure. During your consultation, Dr. Au will review your medical history and examine the condition of your abdomen, including the amount of excess skin, fat deposits, and muscle laxity. You will have the opportunity to discuss your goals and concerns, as well as ask any questions you may have about the surgery.
Dr. Au understands that abdominoplasty is a major surgical procedure and wants to ensure that his patients are fully informed about the process. He will explain the different types of abdominoplasty procedures available and recommend the best approach based on your individual needs. For example, some patients may only require a mini-abdominoplasty, whereas others may require removal of a large apron of skin and fat in the lower abdomen, above the pubic mound, known as a panniculectomy. (3)
Procedure
At Pacific Med Health Group, we provide our patients with personalized care and attention throughout their entire journey. Our team will also provide you with detailed pre-operative instructions to help prepare for your surgery, as well as post-operative care instructions to ensure a smooth recovery.
During the procedure, you will be under general anesthesia. An incision is made along the lower abdomen, just above the pubic area. The length of the incision may vary depending on the extent of the surgery required. Dr. Au will then separate the skin from the abdominal muscles and remove any excess fat. The abdominal muscles are tightened with sutures to create a more toned and flattened appearance. Any remaining skin is pulled down and trimmed before Dr. Au closes the incision with sutures.
Recovery & Results
Following an abdominoplasty procedure, patients will need to take some time off work to allow for proper healing. Dr. Lee Au recommends taking at least two weeks off to rest and recover. During this time, you will experience some swelling and discomfort in the abdominal area, which can be managed with medication that Dr. Au will prescribe. To promote proper healing, it is important to avoid strenuous activities such as lifting heavy objects or exercising for at least six weeks after the surgery. Patients should also avoid driving for the first week of recovery, and plan to have someone help them with daily tasks at home during this time.
After the recovery period, patients can enjoy a flatter, more toned abdomen and improved body contour. It is important to maintain a healthy lifestyle through exercise and proper nutrition to ensure long-lasting results. While some scarring may occur, Dr. Au carefully places incisions in discrete areas so that they are easily concealable under clothing.
Cost of a Tummy Tuck in Los Angeles
The cost of your procedure will depend on several factors, including the type of technique used, the extent of surgery required, and anesthesia costs. During your initial consultation with Dr. Lee Au, we will discuss all aspects of your treatment plan and provide you with an accurate estimate of the total cost.
With Pacific Med Health Group, you can take control of your aesthetic future and achieve the flat, toned stomach you've always wanted. Contact us today at (800) 555-5551 to schedule your consultation with Dr. Au.
FAQ
What are the different types of abdominoplasty?
There are several types of abdominoplasty procedures available, depending on the patient's needs. A full abdominoplasty involves removing excess skin and fat from the entire abdominal area and tightening the underlying muscles. A mini-abdominoplasty, on the other hand, targets only the lower abdomen. Extended abdominoplasty or panniculectomy is recommended for those who have excess skin and fat in the hip and flank regions.
Are there any risks associated with abdominoplasty?
Like any surgical procedure, abdominoplasty does carry some risks. These risks include bleeding, infection, and adverse reactions to anesthesia. However, these risks can be minimized by choosing a board-certified plastic surgeon and following all pre-and post-operative care instructions carefully.
How long do tummy tuck results last?
The results of abdominoplasty can last for many years, as long as the patient maintains a healthy lifestyle. Factors such as weight gain, pregnancy, and aging can affect the longevity of the results. Patients should continue to follow a healthy diet and exercise regimen to maintain their new shape.
References
Sadeghi P, Duarte-Bateman D, Ma W, et al. Post-Bariatric Plastic Surgery: Abdominoplasty, the State of the Art in Body Contouring. Journal of Clinical Medicine. 2022;11(15):4315. doi:https://doi.org/10.3390/jcm11154315
O'Kelly N, Nguyen K, Gibstein A, Bradley JP, Tanna N, Matarasso A. Standards and Trends in Lipoabdominoplasty. Plastic and Reconstructive Surgery Global Open. 2020;8(10). doi:https://doi.org/10.1097/GOX.0000000000003144
Sachs D, Sequeira Campos M, Murray J. Panniculectomy. PubMed. Published 2023. Accessed May 4, 2023. https://www.ncbi.nlm.nih.gov/books/NBK499822/#:~:text=A%20panniculectomy%20is%20an%20operative