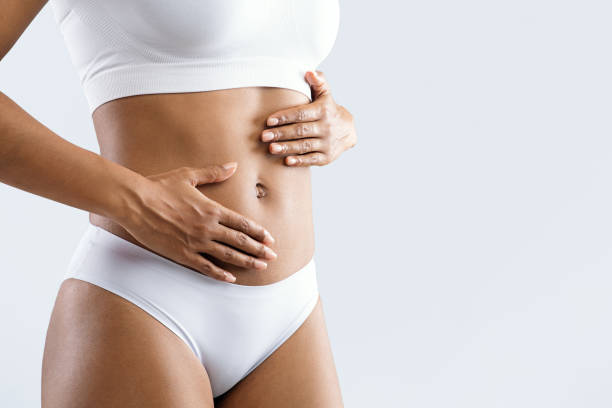 From the sunlit beaches of Santa Monica to the fashionable streets of Beverly Hills, a flat tummy has become a coveted and universally admired symbol of fitness and beauty. When a rigorous diet and ab crunches fail to do the trick, a tummy tuck (also known as abdominoplasty) will deliver real results and give you that stunning stomach you always wanted.
Aside from removing excess fatty tissue concentrated in your abdomen, this procedure tightens abdominal muscles that have been separated and weakened by pregnancy or lack of activity. A tummy tuck may also reduce the appearance of stretch marks, especially those located below the navel. It is true that liposuction can also remove fat, but it can't fix flabby, hanging skin, which often persists after weight loss or childbirth. Many of our patients find that combining liposuction with a tummy tuck can enhance the results and give you an outstanding flat stomach.
Before and After Photos
Mini Tummy Tuck VS Full Tummy Tuck
During the consultation, our experienced surgeons help you decide whether to choose a full tummy tuck or a mini tummy tuck. A full tummy tuck remains the most effective solution for correcting muscle separation, excess skin, and bulging of the upper abdomen. However, if your skin laxity is mostly concentrated below the navel, a mini tummy tuck can be a good option.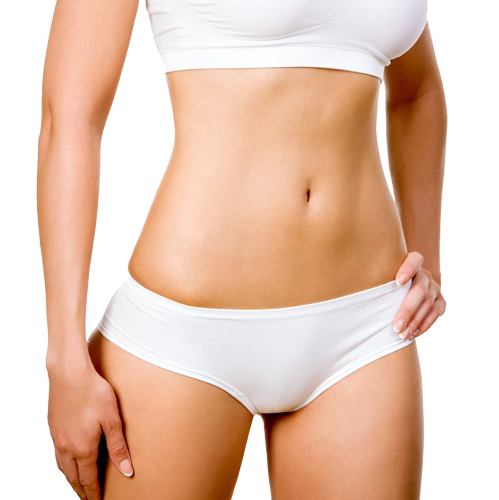 A full tummy tuck involves an incision around the belly button and another incision on the lower abdomen. During this procedure, excess skin and fat are removed, and the entire abdominal wall is tightened with permanent sutures. A mini tummy tuck is usually performed together with liposuction of the upper abdomen and the flank areas. With this procedure, a smaller incision is made in your bikini area and no incision is made around your belly button. Once excess skin and fat are removed through this incision, permanent sutures will be placed to tighten abdominal muscles.
A mini tummy tuck has some advantages such a relatively brief duration of surgery and shorter recovery time. Whereas a full tummy tuck typically requires 4 hours in surgery, a mini tummy tuck can usually be performed in about an hour. A mini tummy tuck also produces less scarring, which is located low enough to be concealed beneath a bathing suit or underwear. Nonetheless, a full tummy tuck remains the best option for patients seeking to correct flabby skin above the belly button which will not go away on its own and cannot be corrected with a mini tummy tuck.
African American Tummy Tuck
Our surgeons know that the patient's expectations are often determined by their ethnic heritage and cultural background. African-American women, for example, may strive for different tummy tuck goals than other patients, emphasizing a curvaceous feminine contour over a skinny appearance. To achieve this effect, we have perfected a unique tummy tuck technique that not only removes the excess skin and fat from the abdominal area, but also accentuates the curves and produces the desired full-figured silhouette.
Aside from having different goals and expectations, African-American patients also present with unique health concerns. Compared to Caucasians, African Americans are more likely to develop irregularly shaped and raised keloid scarring on their skin. To address this issue, we rely on internal sutures and surgical glue when performing African-American tummy tucks. The recovery time for an African American tummy tuck does not significantly differ from that experienced by most other patients.
Male Tummy Tuck
Given that a tummy tuck is one of the most popular plastic surgeries today, it should come as no surprise that increasing numbers of men are requesting this procedure to stay fit and feel young. While seeks to accommodate this rising demand, our plastic surgeons also understand the unique expectations of male patients. Most men who come in for a tummy tuck not only wish to enhance their physical attractiveness, but also remain competitive in today's job market.
In many respects, male and female patients share a common goal of eliminating excess fat and tightening abdominal muscles. For many male patients, however, abdominoplasty is particularly effective after a period of significant weight loss as it helps to tighten loose skin that will not go away on its own. Our tummy tuck specialists also consider differing patterns of fat distribution in male and female patients. We will enhance the contours of the male abdomen to achieve a masculine and toned form. Our surgeons may also address a large belly button, which can be excessively round and protruding in male patients.
Procedure
On the day before surgery, you should take care not to drink or eat anything after midnight. On the morning of surgery, take a prescribed nausea medication with a small sip of water and refrain from wearing makeup or perfume. A tummy tuck typically requires only one surgical procedure with a mini tummy tuck lasting for about an hour and a full tummy tuck taking from three to four hours to complete. If additional procedures are performed in conjunction with the tummy tuck, more time may be required. Prio to surgery, we will administer anesthesia to make sure that you experience no discomfort during the procedure. When performing a full tummy tuck, our surgeon will make an incision around the belly button and another incision on the lower abdomen. In the case of a mini tummy tuck, he will make a smaller incision around your bikini area without an additional incision around the belly button. The surgeon will then remove excess skin and fat through the incision. Afterwards, he will tighten the abdominal wall with permanent sutures.
Recovery
Following surgery, make sure that you can count on someone to drive you home. Because you will need help with your daily chores, you should have a responsible adult stay with you for at least 48 hours. If you are unable to make arrangements for a ride home, please notify us in advance and we will prepare an after-care facility for you to say overnight. A certain degree of swelling and bruising that may appear immediately after surgery is considered normal. Our staff will regularly follow up after the procedure to ensure rapid healing process and, if necessary, prescribe medications to relieve any discomfort. Typically, wearing a compression garment helps to promote a reduced swelling and more rapid healing process. During the recovery, heavy lifting and other forms of strenuous activity should be avoided to allow for proper healing of the incision. Normally, it takes 6 to 8 months for swelling to subside completely. In turn, you can expect the scar to fade significantly in about a year, leaving you with the results guaranteed to bring you self-confidence and satisfaction for many years to come.